I've been struggling trying to find the right words to sum up running the marathon last week.  You see, it was 100% more fun than running it last year, and yet, I'm still trying to figure out for myself why I even have run 4 marathons in the first place.  The other week Run Wild
 by Boff Whalley (yes, that Boff Whalley) came in the mail, and so far it's exactly what I always wanted What I Talk About When I Talk About Running
 to be.  The entire premise of the book is that the city marathon is the antithesis of what running should be – and I'm half-inclined to agree.  It's a long story.
Anyway.
They changed the start of the marathon this year to have 2 waves – one starting at 7:30am, the other starting at 8am.  Because I didn't have a qualifying time to get in the first wave, Ian and I started in the first corral of the second wave.  Which made the first 2 miles of the race completely different from last year.  The road was spacious and uncrowded and we started off running faster than we planned, but it felt good, so we stuck with it.
The last corral of the first wave included all of the charity runners.  I don't know what the average finishing time for charity runners is, but it's certainly much slower than my running pace.  By mile 3, we were passing people walking.  Walking.  At mile 3, with at least a 15 minute head start.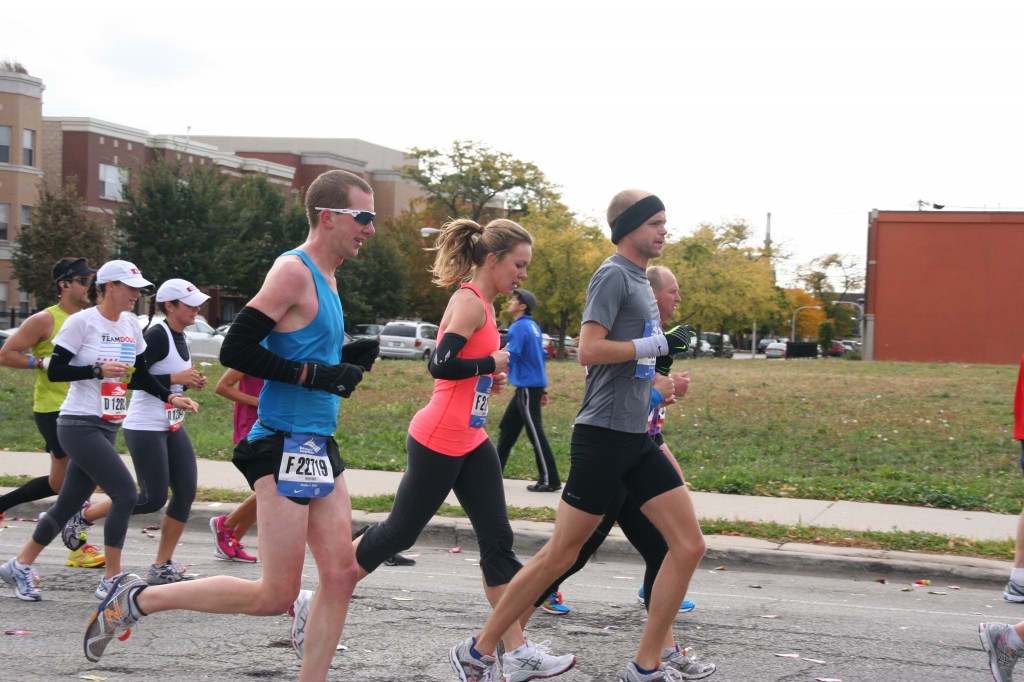 Ian and I continued to run about 7:20 min/miles, and started getting really good at dodging people as we passed them on the road.  Really good.  Because we dodged people from mile 3 all the way until the finish.  It was annoying.  But we were flying, and feeling good, and it was just so much better than last year that it hardly seemed like work at all.  At every mile check, I compared our time to what my PR's were from 2 years ago, and my splits were almost the same.  At the 10k mark, we were only 30 seconds slower than my PR from 2 years ago.  At the half marathon mark, we were actually faster than I ever ran a half marathon aside from the Park 2 Park race from a couple weeks ago.
We were holding a really good pace, even if we slowed a bit, everything flew by faster than last year, and I actually didn't space out and remembered running miles 17-20 this year.  The little things stand out more than last year, even though they all passed by much faster.  It was really a lot more enjoyable to run 54 minutes faster than last year and spend less time out on the course.  It was also a lot easier to run with other people.  From mile 7 until 23 or so, Ian and I ran with another girl who was going exactly our pace, which actually made running a lot easier during the later miles.  When the urge to walk starts settling into your mind, it's good to have other people next to you to motivate you to keep running.
So I don't really know what else to say.  We ran a marathon.  In 3:21:39.  Which is pretty fast, I think.  We crossed the finish and were stunned at what we'd just done.  It all came together better than I predicted.  I'm literally shocked that I can run so fast.
Will I ever run another city marathon?  I don't know.  I just know that I'll continue to run, and continue to seek out the unknown.