Park2Park Half Marathon
Don't ask me how I did it.  I'm still trying to figure out the answers myself.
Yesterday morning started off cool, and with only partly cloudy skies.  Perfect conditions for running.  I decided to include the Park2Park Half Marathon as part of my training for Chicago.  My previous PR was a respectable 1:39:14.  Based on the good time I had at the Riverbank Run in May, I figured I could run a 1:35:00 half marathon.  I figured that would make for a good goal, given the number of miles I've been running in training over the past couple months.  That plan for Saturday's run went out the window pretty fast.
I started near the front of the race right from the line, mixed among actual collegiate cross country runners, and used the first half mile to warm my legs up.  But everyone around me was moving too slow, so I went ahead, and well, found myself isolated pretty quickly.  Apparently when you run fast, there are not so many runners to keep you company on the road.  It gets lonely.  I took the first mile out in 6:20.
I quickly got used to running alone, just like all my training runs.  I passed and/or got passed by a grand total of only 3 people the entire rest of the race.  I kept my pace steady, and somewhere along mile 5 or so, Matt Smith was on the side of the road cheering and said "you're in the top 10", which I know he wasn't actually counting, but I started to think about it, and, well, given the number of people who I saw take off up the road ahead of me from the start, it didn't sound ludicrous.  I had to definitely be in the top 20, probably top 15, even.
If the mile markers on the road were accurate (which they very well may not have been), I ran the sixth mile in 6:03.  6:03!  I have never in my life run a mile under 6 minutes, and there I was, out on the road trying to reel in one guy ahead of me, being wary of the dark, dark clouds suddenly coming into view off the lake, and running faster than I ever have, ever.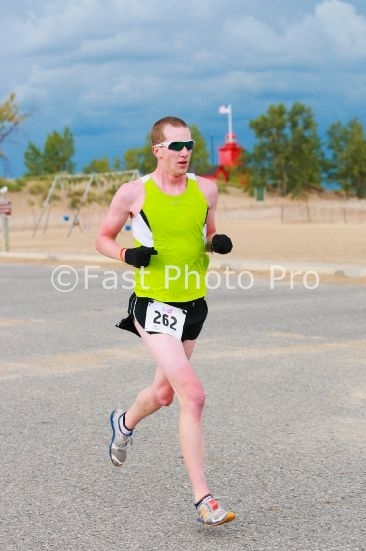 As the course took us out to the state park, my new goal was to run fast enough to finish before the rain started falling.  I stayed light, told my feet to keep kissing the ground, and just cruised.  I was pushing myself, but was still comfortable, as comfortable as running 6:25 min/miles can be, at least.  I passed one more guy after mile 10, and just before mile 12, got passed by the 1st place woman.  Who, apparently is a runner at Western University.  I picked up my pace to try and hang with her for a few minutes, before giving in to the lactic acid and letting her open up a gap on me.
I heard thunder as I rounded the last corner, and finished feeling strong, if in a lot of pain, and then I crossed the line in 1:23:51!  Seriously!  15 minutes faster than my PR.  10 minutes faster than what I was guessing I would run.  13th place overall.  An actual placing out of a huge field!  (Somehow 4th place in my age group)  The storm rolled in right after I finished, and the race directors "black flagged" the race, effectively cancelling the rest of the race.  There were only 15 official finishers before everything was torn down.  It pays to be fast, apparently. I never thought I could run this fast, though.  I am on cloud 8-3/4.  If the seeding for corrals at the Chicago Marathon hadn't closed awhile ago, I would've been in the A corral.  Like, the one right behind all the elite runners.  The one full of people who run fast enough to qualify for Boston – which seems suddenly possible.  Certainly not this year, because I haven't done quite that level of training, but why not next year?
Kisscross Highland Park

But of course, even with a race in the morning, I felt the need to also race in the afternoon.  This time on a bike.  I don't have as many words to say about the cross race at Highland Park in Grand Rapids, just that the course was mostly grass, not very technical, and meant for the power guys.  That's usually good news for me, because I struggle with technical courses, but my legs were tired, so I just had to hang on and do my best.  And take multiple beer hand ups.  And have fun bunny hopping a barrier.  And hurting my legs in as many ways as I could think of in one day.  And just having fun riding my bike again.  I finished 14th, getting out-sprinted at the line once again, pretty much right in the middle of the field.  But it didn't matter, because there were microbrews to recover with afterward.  And my legs were so gloriously tired at the end of the day.  God I love bikes.